925 Sterling Silver Hand / Footprint Heart Charm Necklace - The Name Jewellery™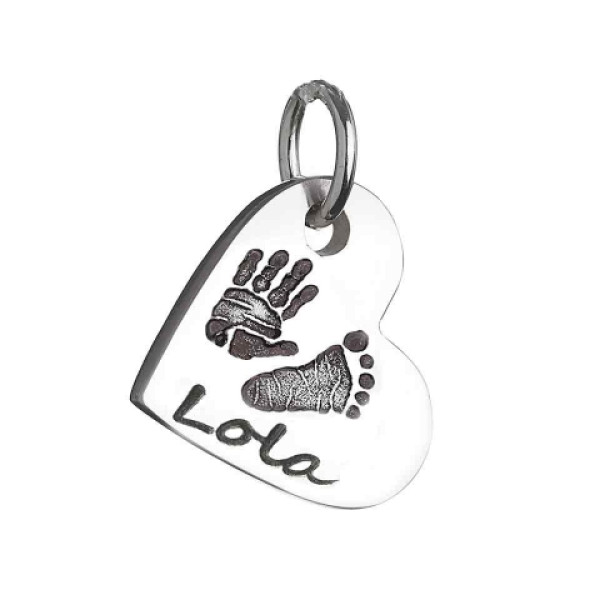 A hand or foot print can be captured in this solid silver charm, giving you a Moment in Time to treasure forever. This beautiful charm is ideal for baby, child or adult hand/foot prints and can be engraved on the reverse with a maximum of 7 letters. The engraving is included in the price! Approximate size at widest point is 1.5cm, thickness 1.2mm. The charm comes on a sterling silver jump ring and 40cm rolo chain by default as standard. The charm is also available on a range of bracelets.
Both sides can be engraved for free.
If you're petite, it's best to stick to smaller pieces with more simplistic shapes. Tall or larger women may want to choose a powerful statement necklace to create a striking visual look. Whenever you choose a new piece of jewelry, think about your proportions and how well that piece will work with them.
Available Options
| | |
| --- | --- |
| | (+£5.00) |
| | (+£5.00) |
| | (+£5.00) |
| | (+£5.00) |
| | (+£5.00) |
| | (+£5.00) |
| | (+£5.00) |
| | (+£5.00) |
| | (+£5.00) |
| | (+£5.00) |
| | (+£5.00) |
| | (+£5.00) |
Tags: Sterling Silver, Hand, Footprint, Heart, Charm, Necklace, 18k, white gold, sterling silver, rose gold, heart necklace, personalised heart necklace, love heart necklace, love necklace, half heart necklace, heart jewelry, heart shaped necklace